Around the Conferences 2023 - Conservative Party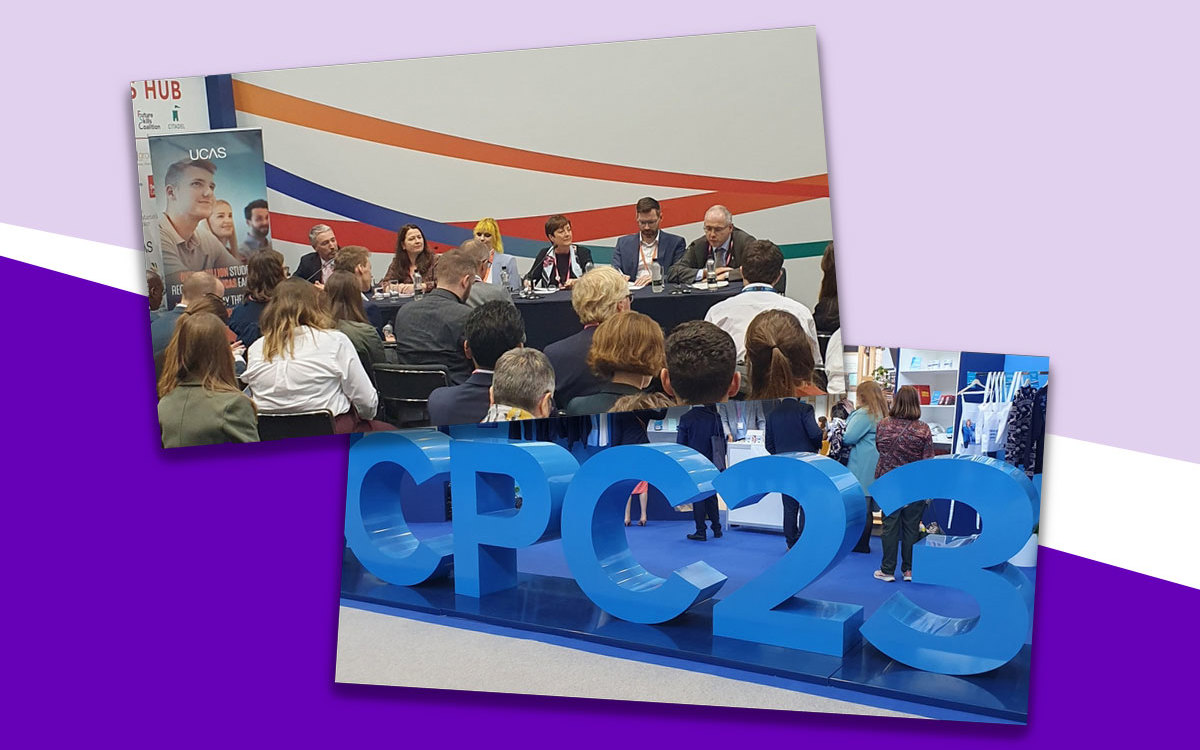 From the sunny Bournemouth seaside to the rainy Manchester city centre. This week it was the turn of the Conservatives to host their annual party conference. Things were certainly bigger and busier this week, with people from all sorts of organisations wanting access to the government of the day.
As I mentioned last week, AELP went into this conference working in collaboration with the Association of Colleges and City & Guilds on a whole programme of events, roundtables and discussions at our Skills Hub. Representing the skills sector as a united front really helped us pack a punch in our engagement and emphasise how important our sector is to improving people's lives.
Before the Prime Minister's speech, the lack of skills announcements was noticeable. It felt like two conferences happening simultaneously; one stage managed, for the audience at home, focussed on winning the next election - the other lively, full of ideas, and focussed on the future of the Conservative Party. Those at home don't see this side of the conference. It was full of discussion about skills gaps, the need for investment in skills, and how to reform the sector. We had a very busy schedule! These discussions feed into the political atmosphere in which the government breathes. That is why it is so important to continue talking about our sector even when it feels like hitting your head against the wall.
AELP had a bigger representation this week, with Chair of the AELP Board Nicki Hay MBE and Director of Policy Simon Ashworth joining me. We were each involved in policy roundtables with leaders in the sector and key MPs, with Nicki also chairing and participating in public discussions, including with Skills Minister Robert Halfon.
As I mentioned, it felt a bit flat on skills policy announcements until the Prime Minister's speech, so let's turn to those announcements. The big one from an education perspective was the announcement of an Advanced British Standard from 16-18 to replace A Levels and T Levels. This would not be introduced until 2033, but the irony of replacing T Levels in "T Level Week" is not lost on us. The key change with the Advanced British Standard is that maths and English would be taken by everyone in some form until 18, with technical and academic routes blended together, in theory creating parity of esteem.
However, the supporting document contained some very encouraging news for our members. An additional £150 million each year is being made available to support those who don't pass maths and English GCSE at 16. Along with this, the document announced that the funding rates for English and Maths for all post-16 apprentices who have not gained their level 2 qualification will be lifted to match the adult education budget – a 54% increase on the English and maths funding currently available to apprentices. This is something AELP has been raising for a long time. Of course, we still need to find out the timelines for this uplift but given the sector has waited over 10 years for this uplift, we should certainly take this as a small victory!
The Prime Minister also announced that post-16 education would be his priority in future spending reviews. This is of course welcome, but is qualified by the big question mark hanging over everything at this conference – will this government be in place this time next year?
Anyway, that's two down, one to go. Off to Liverpool for Labour next week, which I suspect will be busier again. Long-term policy relies on cross-party agreement, so we need to keep our eye on Labour's response to these education announcements.
See you next week!
Around the Conferences 2023 - Conservative Party
By AELP's Public Affairs Manager – Ciaran Roche
Last published:
05/10/2023