Apprenticeship Workforce Development
Please complete the TRAINING NEEDS ANALYSIS SURVEY to help shape the support you'll receive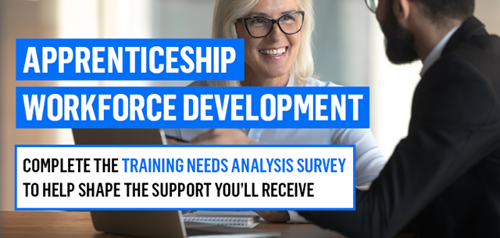 Your help is needed!
We'd like to encourage all those involved in Apprenticeship delivery to take part in this sector-wide survey to have your say in the design and delivery of the DfE-funded Apprenticeship Workforce Development (AWD) programme offer. To complete the survey please click here.
This is a vital opportunity for you to help determine what training resources and support will be provided to apprenticeship providers, employers, and their workforces over the coming years.
Funded by the Department for Education (DfE), the AWD programme supports the professional development of staff at all levels and roles delivering apprenticeships. All continuing professional development (CPD) offered through the AWD programme is being informed by the sector to ensure training needs are met.
An initial training needs analysis survey conducted in November and December 2022 – followed by focus groups and further research – helped inform new, targeted CPD that is being made available in stages. Following an initial early CPD offer earlier in 2023, a further comprehensive offer following the survey results was made available this autumn, including courses to address withdrawals as a key area of need for training. Other areas identified from last year's survey that are being addressed in the development of CPD are on and off-the-job teaching, training and learning, and quality and programme improvements.
This year's survey, which will be open until 14 December 2023, enables apprenticeship providers, managers/leaders, teaching/training staff, support staff and employers to share their views on training needs once again to continue shaping the ongoing development of CPD. Individuals at all levels across organisations are encouraged to submit responses to ensure training caters for all areas of need.
The CPD developed as a result of this ongoing consultation with the sector will continue to enable the delivery of high-quality teaching and training that equips apprentices with the knowledge, skills, and behaviours required for occupational competence.

Funded by the Department for Education (DfE), the AWD programme is being delivered by the Education and Training Foundation in partnership with the Association of Colleges (AoC), Association of Employment and Learning Providers (AELP), Strategic Development Network (SDN) and University Vocational Awards Council (UVAC).
Apprenticeship Workforce Development - your help is needed
Do you have colleagues involved in the delivery of apprenticeships? Forward this survey to them! We want to ensure all resources and training developed take into account the views of as many sector colleagues as possible.
Last published:
15/11/2023